Despite the many challenges that presented themselves throughout 2021, we're proud to say it was a time of growth, learning, and success for OM Civil.
Throughout the past twelve months we've welcomed new, ambitious members to our team, we've tackled some of the most complex projects South-East Queensland has to offer, and we've achieved some incredible outcomes for clients.
To celebrate what we've accomplished throughout the past year, here are just some of our civil construction highlights from 2021.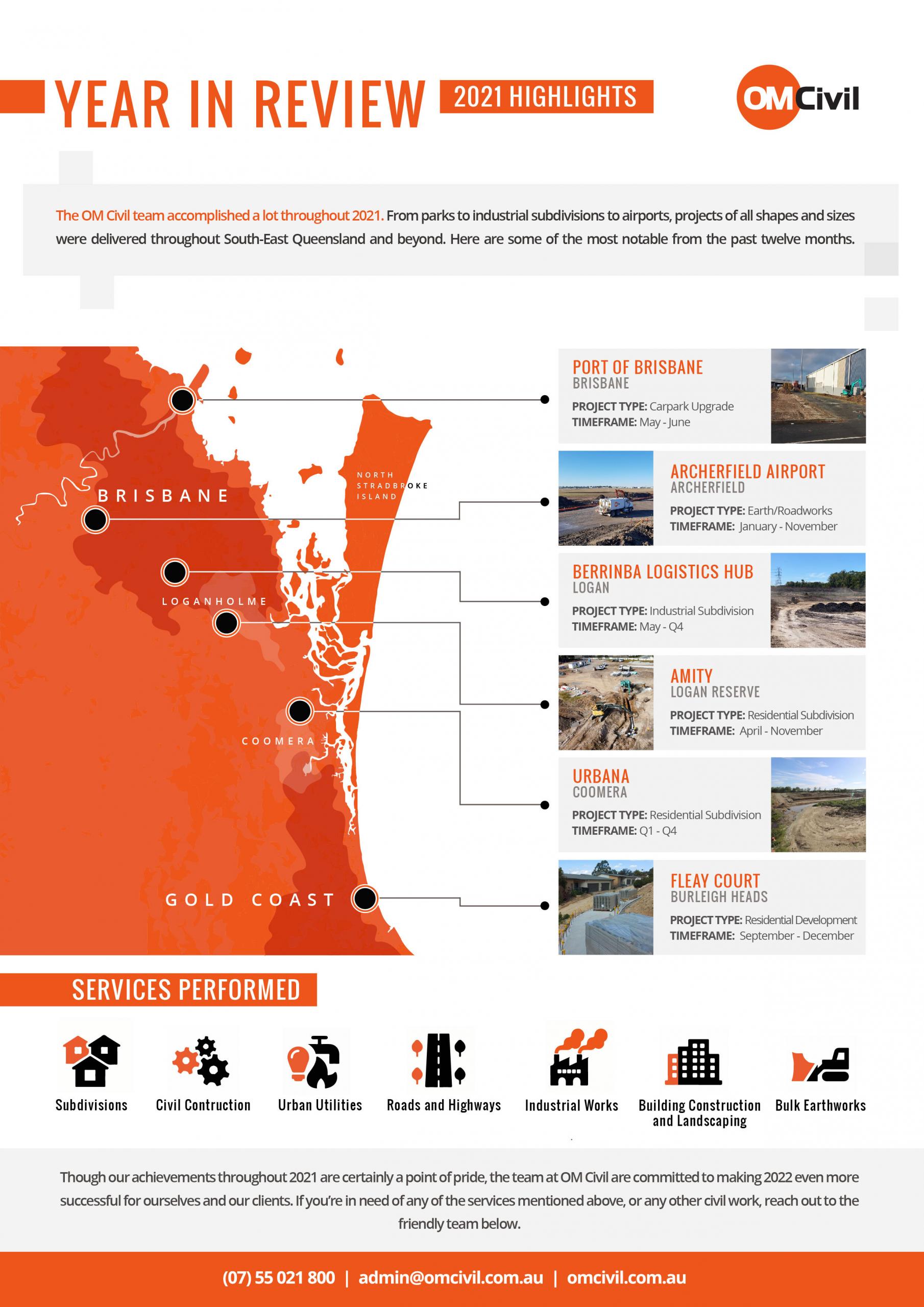 Click to enlarge. See below for more information about these projects.
In September OM Civil began transforming the landscape, utilities, and structure of Burleigh Heads' famed Fleay Court. 
Having sat dormant for nearly two decades, the area is currently undergoing revitalization so that its 18 townhouses can finally be utilised. It's a project that has been hotly anticipated by both locals and the industry at large – understandable given its lengthy and storied history.
With residents due to arrive as early as April next year, we've been working tirelessly to ensure the upgrades are delivered as efficiently and promptly as possible. Fortunately, tight deadlines have never been an issue for our team, as illustrated by the next project on our list.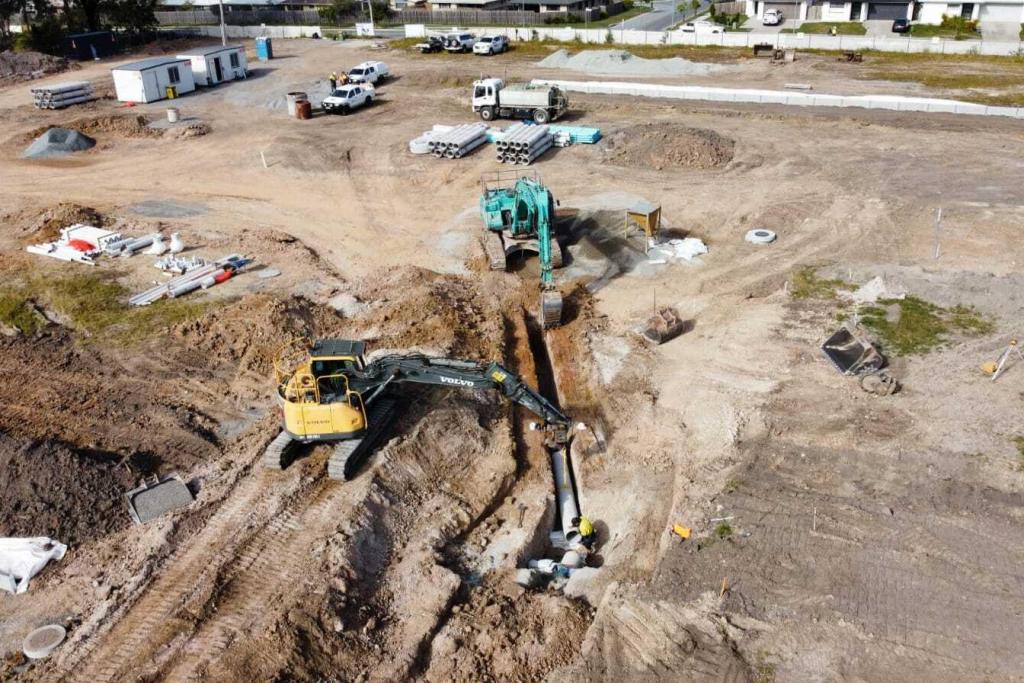 Amity is a mixed-use subdivision nestled in the burgeoning Logan growth corridor. With ready access to the amenities of Marsden Park Shopping Centre, and one of the country's top public schools, the area is a haven for young families. 
While the location of this project is certainly noteworthy, what makes it particularly remarkable is the speed with which it came together. With OM Civil at the helm, the development's road upgrades, bulk earthworks, stormwater upgrades, and sewer, water, and electrical reticulation were delivered not just on schedule, but well ahead of it.
This impressive efficiency meant developer Lexen could lodge for early plan sealing of the estate – a necessary step in acquiring lot titles from the Council and completing settlement with land buyers. We consider this a 'win' for all involved.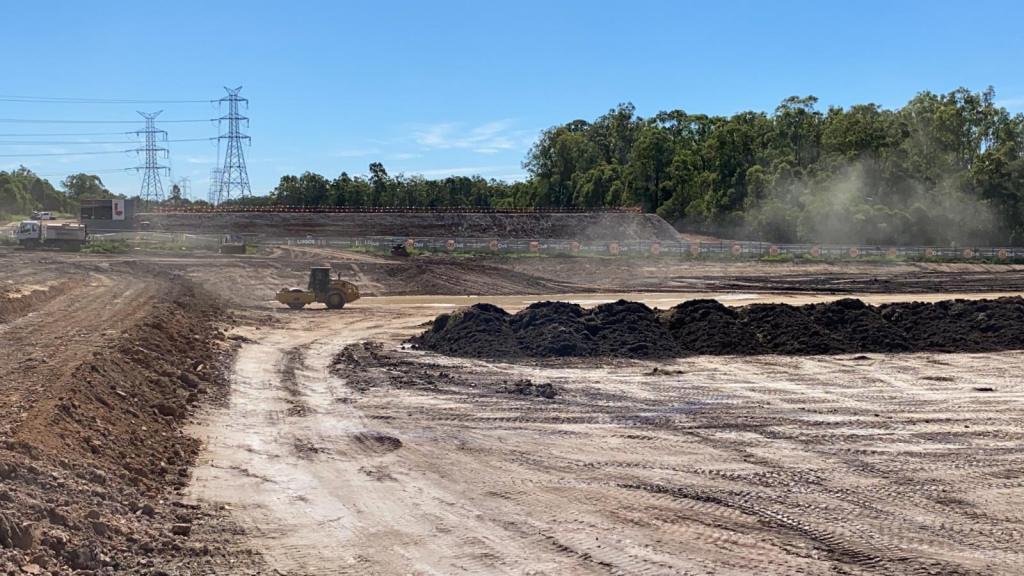 In May we had the opportunity to showcase our flair for industrial subdivisions when we broke ground on the Berrinba Logistics Hub in Logan.
Involving 60,000m3 of bulk earthworks, large diameter water main diversions under live traffic management, road widening works, electrical works, landscaping works, and three-metre high retaining walls, there was plenty for the OM Civil team to get stuck into.
'Get stuck in' we did. In fact, we relished the variety offered by this project, and thanks to the hard work of our experts, as well as the support of developer LOGOS, the site is now primed to host a raft of warehousing, industrial, and logistics services.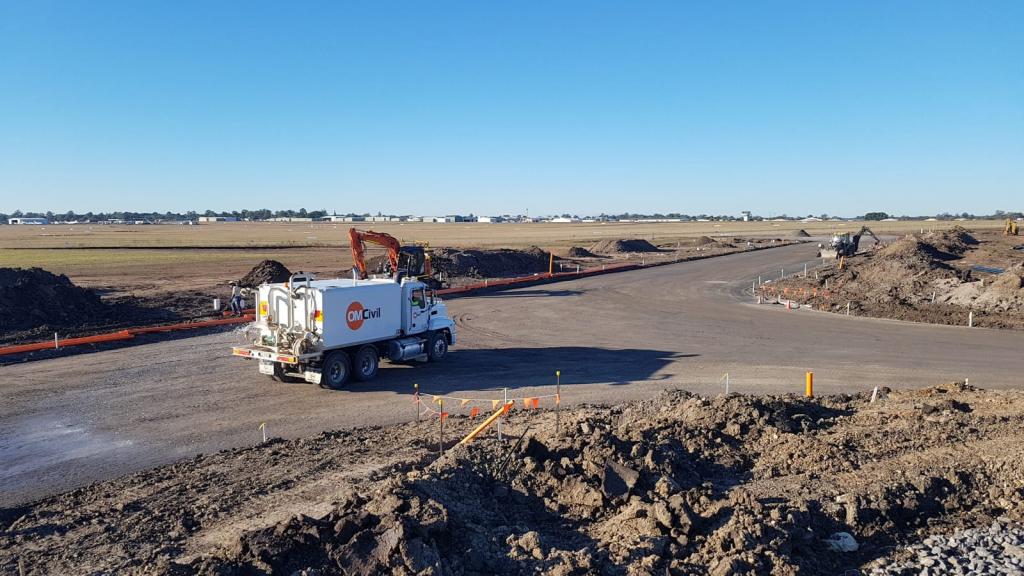 Following the success of our previous projects, OM Civil were entrusted with further modernising one of South-East Queensland's most cherished institutions – the Archerfield Airport.
Giving particular consideration to the location's unique conditions, including a steady stream of live air traffic, our staff set about upgrading a 1250 metre long taxiway and completing the civil works necessary for a new logistics estate. These projects required bulk earthworks, the construction of stormwater drainage channels, lime stabilisation of subgrade, placement and compaction of subbase and fine crushed rock pavement layers, linemarking, and the installation of aircraft guidance signage, among countless other services. 
The aviation institution is now well on its way to offering more facilities than ever for dedicated local 'air heads'.
Though our achievements throughout 2021 are certainly worthy of celebration, the team at OM Civil are committed to making 2022 even more successful for ourselves and our clients. If you're in need of any of the services mentioned above, or any other civil work, reach out to the friendly team today.