Dubbed "Australia's favourite playground" by the city's tourism board, Queensland's Gold Coast has recently proved that it's equally adept when it comes to work, particularly in the field of infrastructure.
In fact, in order to accommodate an expected population boom, around $25 billion worth of infrastructure development is set to take place in the region over the next decade.
Being the focus of so much investment, it's little wonder why the Gold Coast is the largest city to be found outside of Australia's capitals. Here are just some of the exciting projects that are helping cement this enviable status, and transform the Gold Coast as we know it.
M1 Pacific Highway Upgrade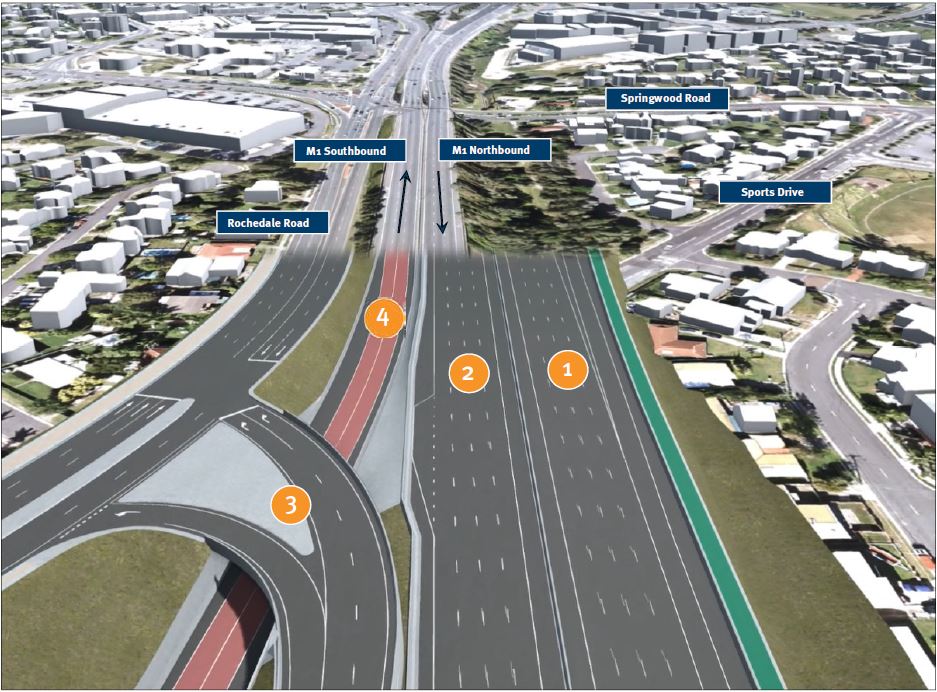 The gateway to South East Queensland, the M1 Pacific Highway is subject to mounting congestion on both the north and south routes. In response to this, the Australian and State Governments have committed a combined $1 billion to upgrading this major roadway, including adding provisions for a future rail corridor. It's hoped such efforts will mitigate increasing traffic and shorten travel times1.
Gold Coast Health and Knowledge Precinct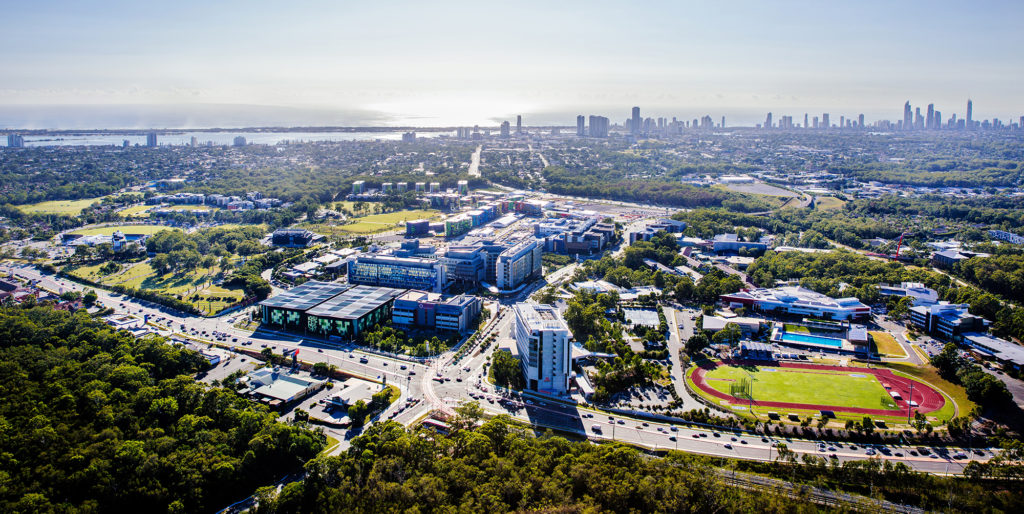 The 200 hectare Gold Coast Health and Knowledge Precinct is an ambitious project due for completion in 2030.
Already home to Griffith University, the Gold Coast University Hospital, and the Gold Coast Private Hospital, the $5 billion-backed Precinct aims to become Asia-Pacific's preeminent health and innovation hub. It's set to introduce new green spaces, street-level retail and dining options, co-working and innovation spaces, entertainment facilities, and a boutique hotel2.
Urbana's Coomera Urban Village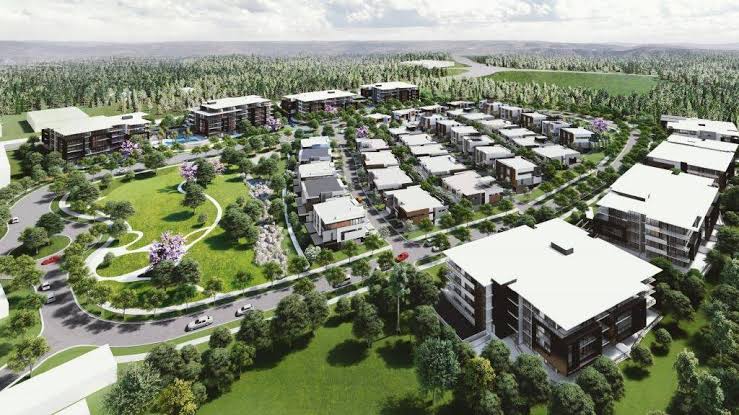 With an increasing number of Australians calling the Gold Coast home each year, the city's outer reaches are consistently being turned to for their idyllic blend of suburban lifestyle and easy access to amenities. Addressing the demand for such spaces is an "eight tower high density mini-city" under development in Coomera – Urbana Residences.
Work to construct the project's high rises and 89 town houses is well underway, with OM Civil engaged for stage 2, 3, 4 & 5 of the precinct's civil works. These include 70,000 m3 of bulk earthworks, 3kms of sewer and water installations, 500 meters of new Council trunk sewer main, electrical works, gas and telecommunications provisions, and landscaping.
Once completed, the resulting residential environment will blend modern architecture with the verdant natural surrounds the area is known for3.
The Star Broadbeach Island Masterplan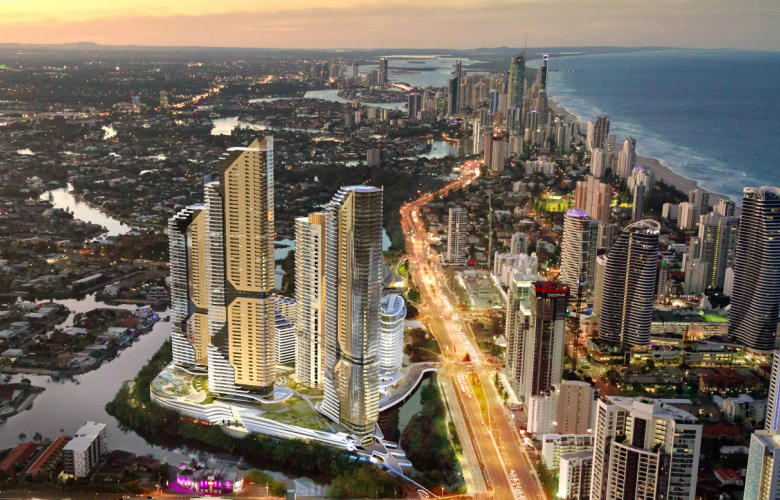 The long-standing home of the Gold Coast's landmark casino, Broadbeach Island is slated to undergo a significant overhaul in preparation for the return of international tourists.
Four new towers have been greenlit for the site, which will create as much as 7000 jobs and provide an additional 1794 apartments over the next decade.
Initially, a $100 million revamp of the adjoining Gold Coast Convention and Exhibition Centre was also on the cards, but that offer from Star Entertainment Group is now off the table after talks with the Queensland State Government fell through last year4.
Ocean-side Cruise Ship Terminal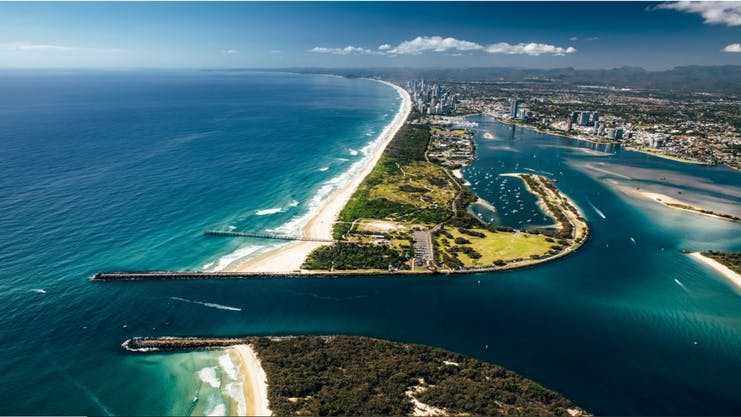 While controversial, plans to construct an ocean-side cruise ship terminal on The Spit hold undeniable promise. Expected to generate around $3.1 billion for the Gold Coast tourist industry over the next three decades, the port facility will cater to some of the world's largest vessels with a 950m offshore jetty, a 780m breakwater structure, and landside terminal facilities.
Construction is due to begin next year, creating 363 temporary jobs and 1557 operational jobs5.
Conclusion
With property groups and the State Government eager to march forward with exciting new infrastructure plans, it will be up to experienced Gold Coast civil engineers and contractors to bring their visions to life.
A local firm, OM Civil is a team of Gold Coast civil contractors and engineers leading the charge for projects in the booming south coast region.
Specialising in large and complex 
subdivisions
, 
buildings
, 
urban utilities
, 
roads
, and 
industrial precincts
, OM Civil has already delivered vital infrastructure to the state's South East. This includes upgrades to the 
port of Brisbane
, a high density 
urban subdivision
 in Coomera, modernisation of the 
Archerfield Airport
, and civil works for a number of 
townhouse projects
 in Ashmore, Southport, Burleigh Heads, Labrador and Brisbane.
Those seeking knowledgeable civil engineers for large, small, complex or boutique Gold Coast civil construction projects are advised to contact the experts at OM Civil here, or by phoning +61 7 5502 1800.
References